Posted by Uvelius Sång on No comments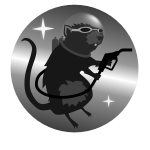 The Fuel Rats have inspired quite a few Rats to create logos for the group. Here is a little gallery with them:

(to be completed)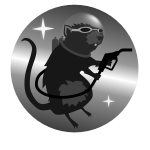 The Fuel Rats. by Robinjb
Probably the first acknowledged Fuel Rats logo, created somewhere in 3301, that also made it inte Elite: Dangerous as the official Fuel Rats decal. The decals were first given by Frontier as a bunch of access codes that were in turn handed out to rats before a certain date, now they are given to any Rats that accomplish 10 or more rescues (3304).
Colored version (
forum post
)
A PVC badge version as well as a t-shirt was available until 3303.
---
The Fuel Rats. Collocare Occasionem Liberabuntur. By Father Cool
Father Cools Fuel Rat roundel, that made it to the rats honours and is even sent out as a physical PVC badge to Rats, completed with smaller pips for certain achievements (see "Rat's honours" and "3303 leaderboard"). Really special achievements could make you even receive a Fuel Rats plaque that Surly sent out, and which could be polished and brushed nicely.
Read more about how Surly makes a 18``Fuel Rat roundel
at his forum post
.
---
Fuel Rats. By D0lphin
Fellow Rat D0lphin made this fantastic Rat, which now also is available as a Fuel Rat t-shirt (
get it here through The Fuel Rat blog
).
And Commander D0lphin herself wearing the shirt.
---
The Fuel Rats. We deliver. By Uvelius Sång
Uvelius' Fuel Rat roundel, designed on request by a fellow Rat (Orange Sheets? Was that you?), inspired by his Rattatoons and also available as a PVC roundel.
The author does not allow comments to this entry